Explore Ko Pha Ngan
Get to know more about the attraction sites in Ko Pha Ngan & Explore the to do things in Ko Pha Ngan.
Popularly pronounced as Koh Phangan (also spelled Ko Pha-Ngan), it is Thailand's 5th biggest island and one of the most beautiful, sensitive to the environment, and yet wild n crazy. Located 70 km from the mainland and just 12 km from Koh Samui, Koh Phangan is reached on ferries from the mainland and Koh Samui. The main disembarkation points are Thongsala and Haad Rin. The 125-sq-km island has all the assets of a tropical paradise that it is, characterized by white powdery sandy beaches lapped by turquoise waters, coconut tree groves, hilly hinterland covered with lush tropical vegetation, more than 20 dive sites in the vicinity, and small villages which have had to cope up with the tourism boom.
Koh Phangan is famed for its legendary Full Moon Party every month. The Full Moon Party is a monthly dance & music festival set on Hat Rin Nok Beach scheduled every month at full moon. The event primarily features electronic music and attracts more than 30,000 party-goers in a normal month. These parties, which are sort of organized events supported by the local administration, are much sought-after and many groups of travelers of all age groups visit the island mainly to be a part of the Full Moon party. There is also Half Moon Party and Jungle Experience Party held every month. They take places in the jungle inland from Ban Tai requiring tuk-tuk, taxi, or bike transport to commute.
From sandy white beaches to scenic waterfalls to mesmerizing viewpoints, Koh Phangan has a great lot to offer to vacationers and for those with a penchant for exploration of off-beat places and experiences. Tourism has grown multi-fold in the last decade and has unlocked new opportunities for fun activities and adventures on the island. The island receives more than 500000 tourists every year (prior to Covid19) and the number is slated to grow once the tourism source markets reopen and traveling becomes hassle-free. Ko Pha Ngan is a family tourist destination and is not just a reveler's paradise.
The contribution of the ex-pat community along with the Thai citizens to keep the island clean and help preserve the environment is exemplary. They have helped to promote sustainable tourism in this Green Island, as it's called, that benefits directly the local community. The Office of Natural Resources and Environmental Policy and Planning (ONEP) in 2014 declared Koh Samui, Koh Tao, and Koh Phangan districts in Surat Thani province part of an environmentally-protected zone. The TAT has also helped the island to be promoted as a Green Island much to the desire of the local and ex-pat community living there. The community here is actively engaged in organic sustainable farming and produces a large number of organic fruits, vegetables, fertilizers, insect repellents, and more. The fauna and flora of the island of Koh Phangan are exceptional, even the rare pink dolphins have even been spotted in its waters.
Ko Pha-ngan's nightlife has become a part of the folklore of Thailand's tourism stories. It has been featured prominently in Alex Garland's 1996 novel The Beach. The British psychedelic rock band Ozric Tentacles featured a song called Ko Pha-ngan on their 1989 album The Bits Between The Bits. In 2016, Infected Mushroom collaborated with Hatikva 6 to release a song called "Hotel Koh Phangan". The song "Vision in Blue" on the album The Golden Ratio by the famed rock band Ace of Base mentions Ko Pha-Ngan.
Here are the top 6 things to do in Ko Pha-Ngan:
Haad Rin
The busiest destination on the island, thanks to the full moon parties that attract thousands of young revelers and backpackers every month. Haad Rin keeps its guests engaged and enthralled with a plethora of activities such as beach football, beach volleyball, and bikini contests, and water sports activities like jet-skiing and sea kayaking.
Diving & Snorkelling
The waters around Koh Phangan have some of the best snorkeling and scuba diving sites in the Gulf of Thailand. Although Koh Tao, 35 km away in the North, is regarded as the numero uno of underwater activities in the Gulf of Thailand, Koh Pha-Ngan has no less of diving sites. Sail Rock is a beautiful dive site 15 km north of Koh Pha Ngan which is very rich in marine life. Snorkeling can be enjoyed at any beach along the west and north coasts.
Trekking
Trekking is a great way to see the island's tropical wilds. The island's mountainous landscapes provide a perfect destination for hiking and bushwhacking. The eastern coast is the best for these activities. Camping is also fun in Koh Pha Ngan's lush hilly terrains. The central, mountainous part of the island – specifically Khao Ra or Ra Mountain is also good for trekking activities. Khao Ra is 630 meters high overlooking Chaloklum and Thong Nai Pan, offering scenic views of the Andaman Sea.
Waterfalls
There are many scenic waterfalls in Ko Phangan. Phaeng Waterfall is one of the largest waterfalls and is worth visiting, on Koh Phangan. Than Sadet and Than, Prawet waterfalls are near the Thong Nai Pan beaches, and Paradise Waterfall is just off the road to Chaloklum Bay. Than Prophet, located on the southeast coast of the island, leads directly into the sea at Waterfall Beach.
Thong Sala Night Market
Locally also called Panthip Market, it is a busy evening food market in Koh Phangan's main shopping hub. You'll find a wide variety of street food sold at attractive prices. A great place to enjoy dishes from around the world, including Thai rice dishes, noodles, grilled fish and meat, pizzas, and sushi, the Panthip Market is usually open 4 pm onwards until late in the night.
Ang Thong National Marine Park
A marine national park established in 1980, Mu Ko Ang Thong National Park is an archipelago of 42 islands covering 102 km² at the shore of the Surat Thai Province east of Koh Samui in the Gulf of Thailand. "Ang Thong" means "golden basin". The islands cover 18 km² of the park, the major ones being Ko Phaluai, Ko Wua Ta Lap, Ko Mae Ko, Ko Sam Sao, Ko Hin Dap, Ko Nai Phut, and Ko Phai Luak. The highest peak is located on Ko Phaluai at 396 meters (above sea level). The islands consist mainly of rugged and steep limestone hills, sinkholes, caves, and inland marine lakes. There is one nomadic village at Ko Wua Ta Lap and another at Ko Phaluai, while the other islands are uninhabited. The islands and the waters around are a popular destination for day trips from the nearby islands for snorkeling, canoeing/kayaking, enjoying the beaches, hiking, and more.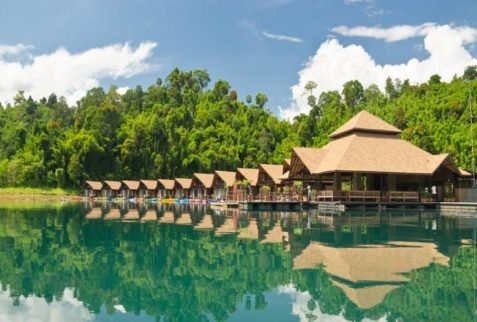 Top attractions in Surat Thani