Explore Beautiful Rayong
Get to know more about the attraction sites in Rayong & Explore the to do things in Rayong.
Rayong is a preferable city for a person who loves beaches, seas, islands, and sunlight. Most of the visitors' love this place because of its chilling view can be experienced by going to Mae Pim Cape suitable for swimming with fresh wind and clean water waves. Rayong is located on the east coast of the Gulf of Thailand with 100 km long coast which is approximately 220 km from Bangkok. There are many regular bus services provided to travel from Bangkok to Rayong. Hat Sai Kaew is a beach popular for having parties and fun, whereas Hat Praow beach is for peace and relaxing purpose. Rayong is also well known for its various kinds of fruits and seafood which gives richness to their food.
As the main industry is fishing and it is also the main producer of Thailand's fish sauce, so it is impossible to miss eating fish and fresh seafood available on the beaches and every restaurants. It attracts visitors by its various traditional activity and festivals like fruit festival happens annually during May when growth of fruit reaches its peak season.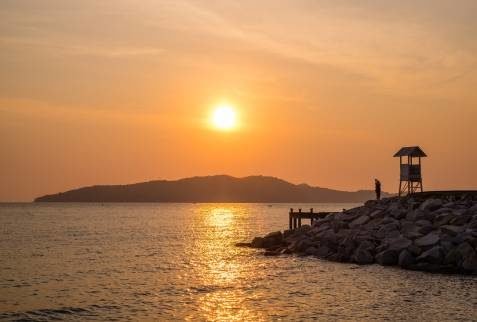 Top attractions in Rayong