Do you want to know about Thailand's Traditional Art & Crafts?
Thailand has much more to offer than just its sandy sun-kissed beaches, heavenly islands, and delicious cuisine! And one of the must-see things is definitely Thailand's traditional Arts and Crafts. As it being a historical country full of cultural traditions, the arts and crafts from Thailand are rightfully famous all over the world not only with the design but also because of the story behind each piece. Some of the outstanding examples of Thailand's art & craft are Thai silk, tribal jewelry, local houses, wood, and bamboo furniture.
Let us take you through the top 5 Arts and Crafts and where to find these beautiful items in Thailand.
1. Thai Silk
When talking about the most famous souvenir to buy from Thailand, Thai silk is one of the first things that pop into everyone's mind. Especially when they get to visit the northern part of Thailand which is famous for Thai silk and Tribal clothes design. We can say that Thai silk is probably the most popular craft along with the import-export business of Thailand. Thai silk became more well-known to the international community after World War II by the discovery of the famous designer Jim Thompson who is now also one of the famous museums in Bangkok as well. At Jim Thompson House, you will see the handmade design of Thai silk and an exhibition of how to make one. Thai silk is a product of silkworms that come in different colors and lengths. 1 Kilogram of silk could take up to 40 hours to get one. Where to find good Thai silk in Thailand? Bangkok has a famous district for buying silk and tailor-made outfits which is Sukhumvit and Surawong road.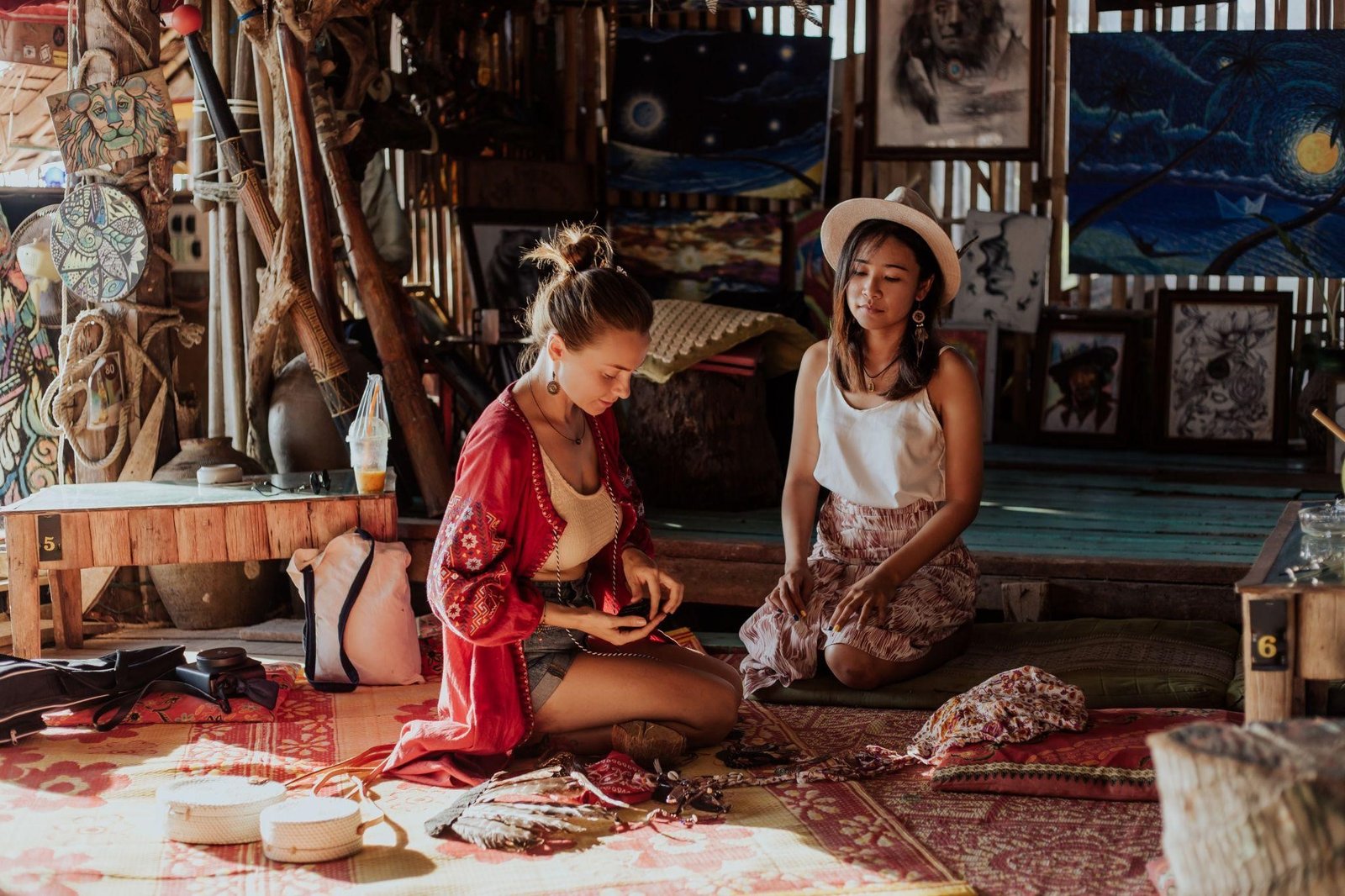 2. Pottery
Thai's Potteries or Ceramics or in Thai as we call it Benjarong are definitely not the typical potteries you will find out there. This is one of a kind! Pottery from Thailand is very famous as a gift for the elderly. Not only because of the design itself but it's the symbol of appreciation and respect which is the reason why it is perfect as a present for senior citizens. It was first made in the household or for domestic use back in the Sukhothai period. Until it finally received influences from Chinese and Burmese design it started to have more patterns on the ceramics. The design has been changing from time to time but still represents the symbolism of Thais and the world knows this is truly the product from Thailand.
3. Rattan and Bamboo Crafts
It is pretty common to find rattan and bamboo craft products in the north and northeast parts of Thailand. And each part of Thailand also produces different kinds of bamboo crafts depending on the types of bamboo. In the past, bamboo crafts were famous to be made like a basket, kitchenware, or for household use. And later has become one of the top souvenirs to buy whenever you visit those provinces in the north and the northeast. Nowadays, it's been developed into furniture and architecture but still retains the quintessential Thai aspect of design. There are also many bamboo crafts museums in Thailand where they exhibit how to make one and you can try to demonstrate as well. Not only have the rattan and bamboo crafts played a major role in the tourism business as being important export products, but it has also helped enhance the economic prospects of local Thai labor as well. If you would like to support the local community, rattan and bamboo crafts are definitely a must when looking for gifts from Thailand.
4. Traditional Thai Dress
There are many styles of Thai Traditional Dress which began in the Ayutthaya era (almost two thousand years ago) from Thai cut dress, Jong-graben, Sabai, and many more. And each style represents a different cultural part of Thailand. For example, Sabai is more common to find in the central part. Meanwhile Sinh, a Thai wrapped skirt, is originally from the northern part. And there's also Baba dress, which is a traditional outfit of Phuket, in the southern part of Thailand. A bit forward from the Ayutthaya era is Rattanakosin, the Thai traditional dress that has influences from western culture and becomes more modern. We call it a Chakkri dress which is more elegant and less traditional. It is popular for Thais to wear on their wedding day especially when they decide to have their Thai wedding ceremony.
5. Likay
Likay is a popular form of traditional folk songs and performances. What makes this show such a unique one are the extravagance of costume with jewels and shining diamonds and also the storyline mostly based on Thai traditional folk tale. This kind of performance is what you can only find in Thailand. And Likay is sometimes not only for entertainment. Thai people believe that the show can be performed to pay a tribute to your loved one who's passing away or to pay respect to the Buddha as well. Likay was influenced from Malaysia originally and is now common to find in the rural part of Thailand. The length of the show could last for around 2-3 hours. And to prevent people from getting too overwhelmed about it, after each act will be a small cut of a funny show of jokes to let people know as well that the new act is about to begin. You may find the show a bit difficult to understand at first, but if you want to get to know Thai traditional shows a bit better, this is the one. Hope you liked this piece of information about Thailand's traditional art and crafts.
It's time for you to book a ticket and pack your bag to Thailand!