Major backpacking destinations in Thailand
Welcome back to Thailand, travelers!!!! Finally, as it seems, Thailand is now getting ready to reopen for traveling into almost all of its provinces with restrictions gradually being lifted. The "test & go" scheme is being reopened effective 1st Feb 2022, and this time to travelers from all the countries of the world, so this big news will make most travelers around the world excited to come to visit Thailand as Thailand is a coveted tourist destination and also a backpacker's paradise. That is to say, budget prices, easy traveling, friendly people, and diverse attractions make Thailand one of Asia's most popular backpacking destinations. Chilling on the beautiful beaches, exploring wildlife jungles, partying all day and all night, or hitting up gleaming temples, well we have it all in Thailand! Backpacking in Thailand offers myriad memorable experiences. The Land of Smiles has many sides and you'll find it full of fun and adventure, a trip to Thailand can be a life-changing experience and you will never forget it!!! Here's a list of 10 backpacking destinations you must visit in Thailand.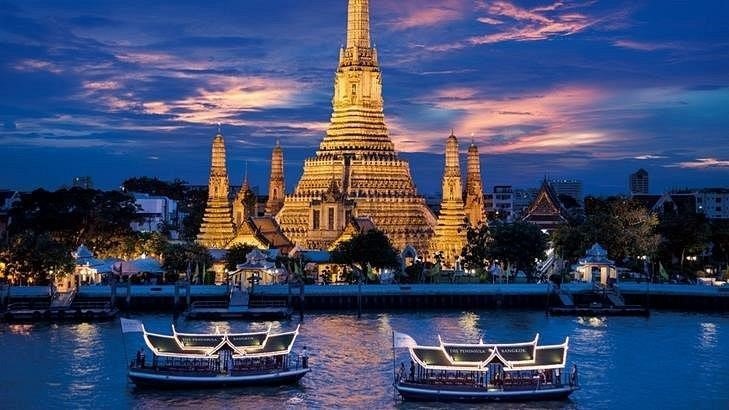 Bangkok is Thailand's capital and as its largest city, it's very easy to get to and travel from. There's a nightlife scene that can perfectly fit everyone's tastes from Khao San Road (where you'll also find plenty of cheap accommodation and a great, friendly atmosphere, as well as a portion of very easy-to-find street food!) to Royal City Avenue (known as the RCA, which has many nightclubs that you can also enjoy nightlife at). Bangkok also has delicious street food that will keep your wallets and stomachs full all around the city, especially Chinatown. There are more than 400 Buddhist temples that you must go visit and experience Thai culture, though it's also nearly impossible to visit them all. However, most recommended, make sure you step inside Wat Pho and Wat Phra Kaew, and the Grand Palace since they are very significant for Thailand and have a very unique design of Thai architecture that reflects the Thai cultures. Last but not least, before you head to the next city, make sure you stop by one of the floating markets because it is not only interesting but also can make your stomach full again and most importantly, do not forget to buy some Thai snacks for your next trip!
Chiang Mai is the capital of the north and also one of the former capitals of Thailand. Chiang Mai really showcases its delightful Lanna traditions and is one of the country's most beautiful and friendly cities. It is one of the best places to experience Songkran (Thailand's most popular festival). The moat and ancient walls of the old city are surrounded by many beautiful temples, including Wat Chedi Luang, Wat Phra That Doi Suthep, and Wat Phra Singh, as well as unique hotels and cheap hostels. Chiang Mai also has a backpacker-friendly nightlife scene nearby and is famous for its floating lantern festival and Sunday night market (Street market).
Chiang Rai
Chiang Rai is one of the northernmost cities in Thailand, (connected to Chaing Mai) and is a little lesser known amongst travelers. It is home to the famous White Temple (Wat Rong Khun), with the Golden Triangle (the point where Thailand, Laos, and Myanmar all meet) nearby and beautiful mountainous scenery throughout the surrounding province. Chaing Rai also has a good selection of cheap hotels and hostels, as well as great night markets.
Sukhothai
Sukhothai is one of Thailand's ancient capitals (for the ancient temples and statues), so there are many temples and statues all over the town. The city is relatively less discovered by the larger tourism industry, so retains its local charm. Sukhothai has a good choice of budget accommodations, but compared to other backpacking destinations, the nightlife is rather limited.
Ayutthaya
Ayutthaya is known for its closely-packed selection of beautiful ancient temple ruins, and great histories of Thailand. The old heart of the town is surrounded by rivers with a lot of temples nearby, namely, Wat Phra Si Sanphet, Wat Phra Mahathat (a Buddha head surrounded by tree roots), as well as the beautifully restored Wat Ratcha Burana, with many others. Ayutthaya has plenty of cheap places to sleep, but very little nightlife. You can also enjoy the unique elephants riding around Ayutthaya city, enjoy sightseeing, and street food, and of course Ayutthaya's famous dessert: cotton candy!
Kanchanaburi
Kanchanaburi is most famous for the "Bridge on the River Kwai", a part of the World War II Death Railway to Myanmar. It has a thriving backpacker scene that naturally means you'll find plenty of cheap hotels and hostels, as well as good nightlife. Recommending riding the railway itself to Kanchanaburi will let you see the stunning riverside scenery!
Koh Phi Phi
Koh Phi Phi has two main islands: Koh Phi Phi Don and Ko Phi Phi Leh. Koh Phi Phi is easily reached by speedboat or long-tail boat from Phuket and Krabi and is mostly called the perfect place for an exotic beach holiday. You won't be bored as Koh Phi Phi has plenty of activities, such as diving, snorkeling, rock climbing, and kayaking. And for those who prefer to relax, there are several amazing spas that offer a range of pampering and revitalizing packages, not to miss out on bird watching and sailing as they are also popular activities, or you can enjoy your stay at the beaches and capture the memorable Instagram-able moments.
Koh Tao is an unforgettable destination found in the Gulf of Thailand that has the best scuba diving training and certifications in the world. That is to say, Koh Tao is probably the least expensive place to get scuba certified with more than 50 dive shops. You can have unforgettable snorkeling and stunning views. Apart from diving, there is a place recommended for you to go see the sunset called "Fishbowl Beach Bar". It is one of the most vibrant spots on the island after dark, with a stunning view of the ocean! The bar is easily found on Sairee Beach, which is where a majority of the best nightlife venues are located.
Koh Phangan
Koh Phangan is one of Thailand's most beautiful and most popular islands. A natural delight with thick jungle and gorgeous beaches, and is famous for its Full Moon and Half Moon parties. The Full Moon Party is today one of the main reasons people head to Thailand, and each party sees thousands of revelers gather on Haad Rin beach for a night of hedonistic, unabashed pleasure. A once in a lifetime experience that is worth your time so if you visit Thailand, you shouldn't miss visiting Koh Phangan.
Koh Samui is also one of the most popular islands in Thailand for the Full Moon Parties. If you head into the southern end of Thailand, Koh Samui is one of the sections of the backpacker trail as the gem of the Gulf of Thailand near Koh Phangan. Well, Koh Samui is the ideal main base for exploring the area, having the best choice of accommodation, beautiful beaches as well as a fun nightlife. Ko Samui is also a favorite for honeymooners as it's relatively quieter than Phuket, the largest of Thailand's island destinations. But without a doubt, it is a backpacker's paradise with affordable accommodations and a pollution-free environment, combined with a variety of food options.
Well, these 10 backpacking destinations are just a few examples of Thailand's most visited places however there are many more places in Thailand that you might like to explore which are quieter and serene.
Just so you know, a short stay will not be enough to explore and enjoy Thailand!