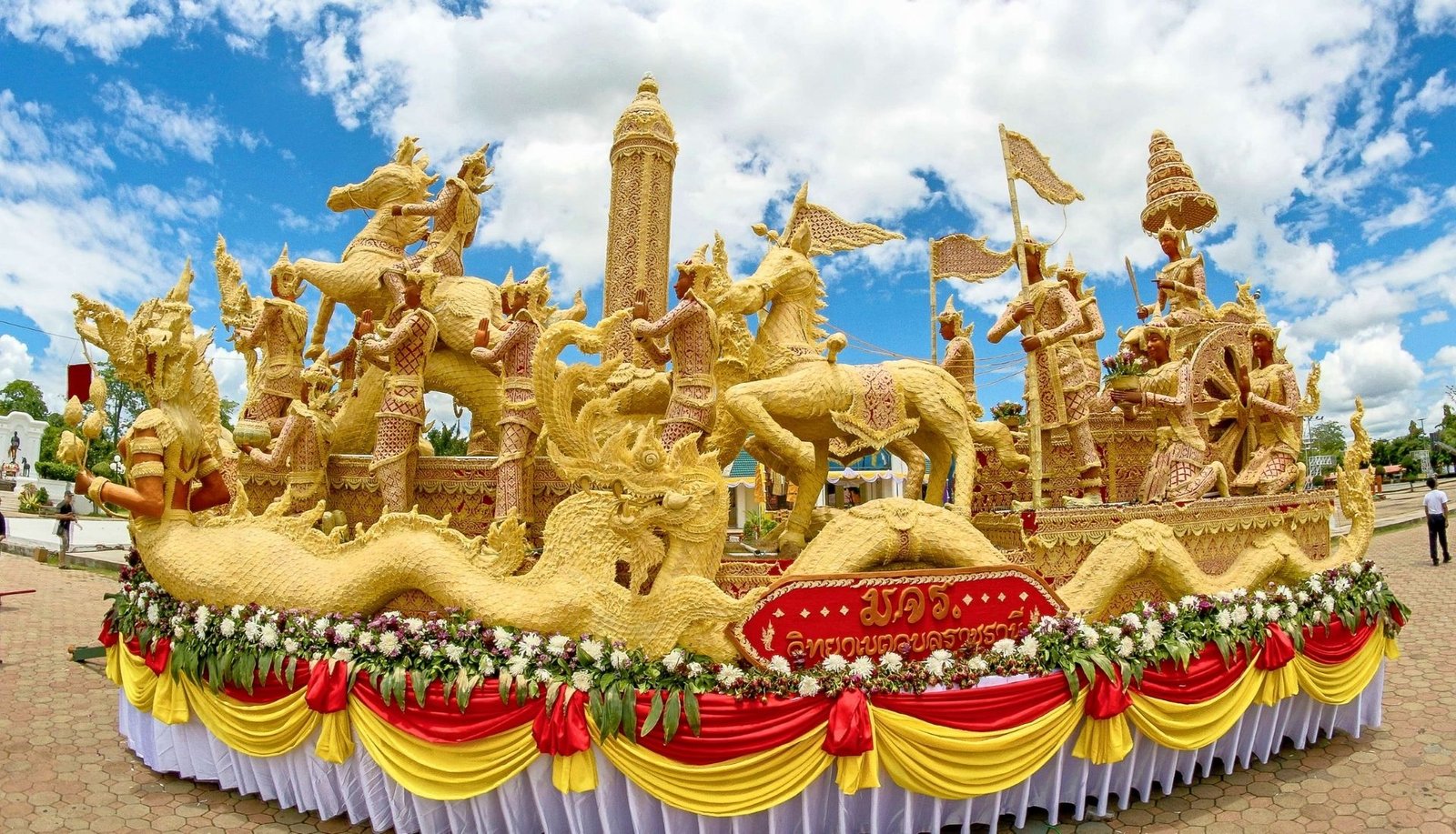 7 Festivals in Thailand That You Must Experience
As Thailand is one of the most popular tourist destinations and a country rich with culture and tradition not just its scenic beauty, beaches, water sports, food, and temples, its festivals are also some of the most incredible in Southeast Asia. Many enthralling festivals in Thailand are celebrated throughout the year, each month offering an exciting opportunity to celebrate with family, friends, and loved ones. For example, from significant revelries like Songkran that is celebrated across the country to region-specific festivals like the Surin Elephant Festival. Here are some of the best festivals in Thailand that you can be a part of on your next trip!
Songkran or Thai New Year Festival (The Water Festival)
Songkran is a national holiday that marks the Thai New Year and is one of the most popular Thai festivals that are celebrated all over the country. This is the biggest, longest, and most fun-filled festival in Thailand and maybe the world! Songkran is a 3-day water fight, It takes place on the 13th- 15th of April every year or for at least a week. This is a festival where people clean their houses, pour water over Buddha statues, and drench each other to symbolize cleaning away sins of the past year, as well as pay tribute to elderly members of the family and their ancestry. When it comes to Songkran day, Thai people first visit temples to thank god for the past year and pray for good fortune in the year to come. The streets are cordoned off in favor of massive parades, and dance performances and many regions crown a Miss Songkran too.
Yi Peng (Lantern Festival)
Yi Peng festival is one of the most popular festivals in Thailand that is known as the light festival. The festival takes place in the legendary city of Chiang Mai, which was once the capital of the Lanna kingdom. It takes place every November (but the exact date changes each year) and is truly a remarkable sight, down by the banks of the Ping River as well as Wat Chedi Luang and Wat Dan Tao temples with thousands of paper lanterns released into the sky. Yi Peng festival is a time for Buddhists to release bad memories, make wishes for the future, and pay respect to Buddha. The act of releasing a lantern symbolizes letting go of the past and moving from darkness into light. Releasing lanterns is the most photogenic part of the festival. There are also parades, religious ceremonies, fireworks, and the release of paper floats in the river.
Phi Ta Khon (Ghost Festival)
Phi Ta Khon is part of a bigger Buddhist festival called Bun Luang, which is celebrated in many parts of northern Thailand. The festival takes place in Dan Sai, a farming village in the Loei province of Thailand. The dates for Phi Ta Khon change every year, but fall in either June or July. The three-day Thai festival is a re-enactment of a Buddhist story and a celebration of animist reincarnation beliefs. The celebration is marked by colorful masks that are painted in gaudy, eye-catching colors along with large phallic noses, which the locals believe that the loud noises will awaken the spirit of the Mun River who protects their town. As Dan Sai is a small town, we recommend you should do your bookings before traveling there since it can be tricky and accommodations fill up quickly!
Boon Bang Fai (The Rocket Festival)
Boon Bang Fai festival is to celebrate the beginning of the rainy season that is greatly needed to grow crops. A rocket festival is being held in the Isaan-region to wake up the sky god (Phaya Taen) that it's time to unleash the rain. The celebration of the wet season is common in many cultures all over the world. However, in Thailand, Boon Bang Fai evolved into a celebration with homemade bamboo rockets, parades, traditional dancing, and late-night parties. As said, the Rocket Festival is being celebrated all over the Isaan region, but the most popular one is being held at Yasothon Province.
Loy Krathong
Loy Krathong is one of the most celebrated Thailand festivals. When it comes to Loy Krathong it means it's time to thank the Water Goddess for a year's worth of her abundant supply, as well as an apology for polluting the waters. Or some believe that this is the time to symbolically 'float away' all the anger and grudges you have been holding onto, and including a fingernail or a lock of hair is seen as a way of letting go of a dark side of yourself, to start anew free of negative feelings. Loy Krathong normally falls in November, during the 12th month of the lunar calendar on the night of a full moon. It's when people gather around lakes, rivers, and canals to pay respects to the goddess of water by releasing beautiful lotus-shaped rafts, decorated with candles, incense, and flowers onto the water.
Surin Elephant Festival
The festival is a celebration of Thailand's friendly giants "Elephants". They have been an essential part of this country's history; in battle, in agriculture, and also used for travel. This elephant festival is held in the northeast of Thailand, Surin Province. You can see the enormous parades of elephants where they are lovingly fed with fruits and vegetables. These parades are followed by marching bands and elephant shows, which the tourists really love it! And interacting with these friendly beasts and taking pictures. The Elephant Festival usually takes place on the third weekend of November.
Lopburi Monkey Buffet Festival
Lopburi Monkey Banquet Festival is held every year to attract tourists all over the world. This festival is dedicated to monkeys, a familiar type of animal in Thailand since Lopburi people believe that monkeys descend from Hanuman's monkey army who, according to legend, saved the wife of Lord Ram from a demon (Asura). Since then, monkeys have been thought to bring good luck and they are allowed to be wherever they want in the city. If you are planning to join this festival, make sure you are in Thailand in November and you will definitely experience many wonderful things related to ancient culture. You will certainly be fun and happy when the monkeys raise their hands to ask for your food but remember you have to be quick to capture memorable moments with these monkeys! Also, you can participate in the parades during the festival and enjoy special cultural performances. Hope you are enjoying reading this article about the most amazing festivals in Thailand.