Poetic expressions through the rhythmic art form
Art knows no boundaries, and human beings too have always excelled at dreaming and doing things beyond their comfort zones. Art needs connoisseurs to survive and grow, an audience that can feel the essence and depth, the hidden meaning and message, and expressions that touch and shake hearts. Artists are emotional, and they have that power to see and feel things that other people would usually miss out to notice.
Still, nobody challenges herself like an artist does, to try something new and also to do something that has not been tried before a certain discerning audience. Thailand provides an artist just the kind of atmosphere and ambiance that one seeks to perform, first time or repeatedly, like a carefree and wandering soul, or as an expert. The first thing that struck me when I first landed in Thailand, in Bangkok, about 14 years ago was their warmth and hospitality, the smiling faces that have truly rightfully coined Thailand as The Land of Smiles.
The second thing my observant eyes very clearly noticed was the aesthetic brilliance that was prevalent everywhere, be it the designs of resorts & hotels, their houses, their malls & showrooms, their culinary presentation, and so much so even the street foods and the small shops in a crowded market like Chatuchak. The presentation was just eye-catching and superb, to say the least.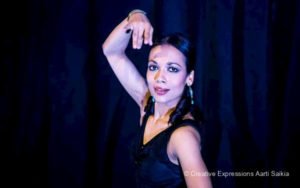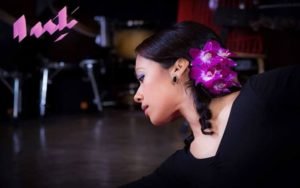 The natural beauty and awesome landscape that Thailand is so well recognized for the world over provides a perfect nurturing ground for an artist or performer to blossom. Thailand, most part of it and not just Bangkok, is actually very cosmopolitan in nature as there has been an amalgamation of different cultures with people from various countries in Europe, North America, Latin America, and Asia have made it their base to work and live. And everybody is accepted with open arms.
Aarti Saikia is one such artist who has made her mark in a distinct art form, which was actually not her practiced one. Her determination and zeal have brought her to a stage today that seems like her own, and she has so beautifully utilized her education, experience, and training to make the society vibrant, reaching out to students to train them to learn and accept different styles of performing art.
Having been exposed to Bharatanatyam, the oldest classical dance form, and one of the 8 classical Indian dance forms, that originated in the southern Indian state of Tamil Nadu, at the age of just 6 years, and then to the other classical dance form of Kathak, Aarti has art and rhythm in her blood.
It was Aarti's fascination with creative arts and her inherent confidence that made her seize an opportunity to learn and try her hands at Classical Ballet. It happened more than a decade ago, in Bangkok, where she moved to live after having left her professional career with the United Nations in 2006. She was already a mother of two young kids when she learned and practiced Classical ballet, followed by Spanish Flamenco, and then you guess what, the popular Bollywood dance.
There was no Indian artist in Thailand performing Classical Ballet about a decade ago when she took this up as a challenge to get into. And now with her evolved sense of creative expression, she has over the past few years expanded her aura as an independent professional artist. Having experimented with the dynamics of theatre, stylized choreography, and innovative arts, Aarti Saikia has showcased 'Poetry in Motion', where she has infused self-penned poetry with movement and has been actively engaged in training children in Creative & Expressive Art through Mindful Skills development. She has performed on big stages on different occasions and in different cities of Thailand and has won acclaim for her style and passion.
She is also a strong advocate of sustainable social development and has collaborated with educational institutions in Thailand to bring meaningful and creative arts to young individuals. Her work UN, at the UNHCR in New Delhi, and with FAO in Rome, has exposed her to the issues of social development, women's development, and the issues faced by marginalized communities. She thus strongly advocates basic human traits of empathy, compassion, and mutual acceptance.
According to Aarti, Bollywood dance is quite creative, and the choreography is ever-evolving. It is fun, popular, and dynamic, and the music is different and is enjoyed across boundaries of cultures and nationalities. Her international theatre production has received a warm response from the audience in Thailand. Her performances have been spell-binding and have received rave reviews.
Aarti has lived in Italy, and Sri Lanka, and in India, of course, and is now living with her family in Bangkok. She is truly a global citizen, showcasing and nurturing Indian culture spreading its goodness and values.
Our guests visiting Thailand should be looking forward to being among the audience at one of her shows, which would make their hearts swell with pride and joy.  We salute her art and her passion to excel, and again to specially mention her commitment towards societal development, the very morals we have stood by in our business, too.