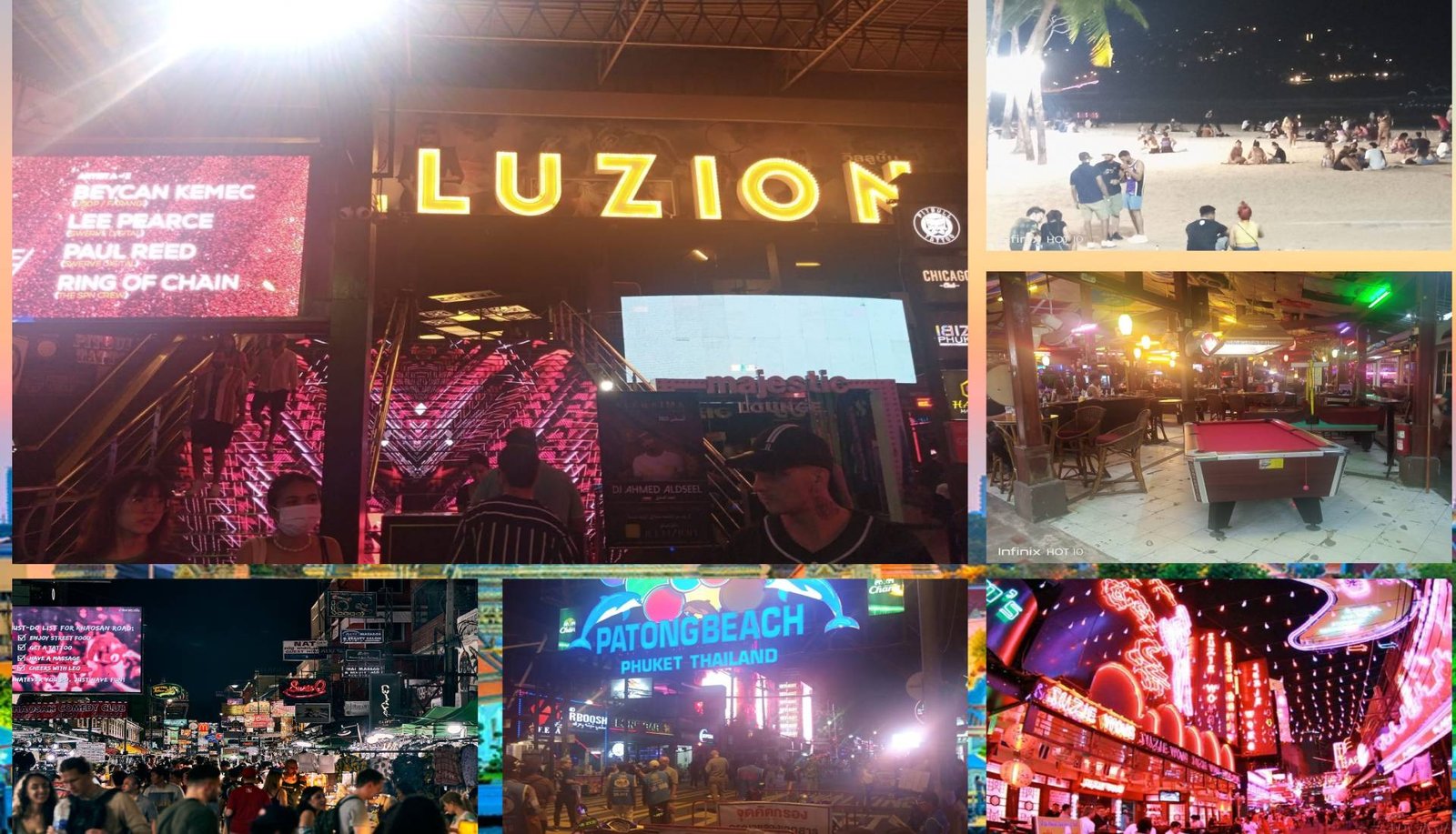 Is Thailand good for nightlife?
As the sun sets over Thailand and the sky turns a kaleidoscope of colors, the music is turned up, and a world of delicious cuisine, heady cocktails, and seductive charm welcome tourists from around the world. Whether you are visiting the hedonistic vibes of Bangkok for the first time or prefer a more sedate island affair in Koh Samui, you'll find something that ticks the right boxes for solo travelers, honeymooners, families, and groups of friends.
Bangkok will definitely assault your senses when you visit for the first time. It's hot, humid, tropical and overwhelming. However, once you begin to navigate the busy BTS Skytrain, dodge the perilous tuk-tuks and manage to navigate the tiny sois in a taxi, you'll soon relax into the hullabaloo of the city. Bangkok is known for its raucous nightlife and badly behaved tourists, think the Hangover blockbuster, tantalizing street food, Michelin Star fine dining restaurants and the infamous Khaosan Road that's been attracting budget backpackers for decades.
Street food is a daily part of Thai life and is delicious, if not slightly spicy. You'll find a street cart on almost every corner selling everything from crispy crickets to fragrant curries overloaded with mouthwatering chilis, freshly grilled skewers, sour Issan sausages, zingy papaya salad or pad Thai Kung, one of the country's favorite dishes. You can explore traditional shophouses that have tables spilling onto the pavement with resident chefs pounding spices, boiling noodles, and grilling fresh fish covered in salt.
Five-star luxury hotels stand proud along the Chao Phraya River and well-heeled neighborhoods and offer almost endless fine dining restaurants for the more discerning traveler. Why not try the Siam Hotel, a venerable favorite in the heart of the historical city; the hotel boasts three acres of breathtakingly lush gardens, a sanctuary of peace, unobtrusive service, and a fusion of food and fine wines.
Whilst busy during the day, Khao San Road comes alive at night. The busy streets are ablaze with neon signs touting their unique entertainment; music spills onto the streets, and buckets of head-spinning booze entice brave-hearted tourists into an evening of thrill-seeking fun. You'll experience a cacophony of assaulting sounds, sights, and scents as you traverse the relatively small area of the city. The Club, Brick Bar, and Hippie de Bar are longstanding favorites for travelers who want to party until the small hours.
Pattaya has worked hard for its reputation of offering notoriously naughty nightlife. The sunshiney city is a couple of hour's drive from the capital and is home to go-go bars, ladyboy cabaret performances, ping-pong shows and massage parlors. Change is afoot with the offering of live music venues, chic bars, and world-class clubs, giving a sense of balance to the less salubrious aspects of life after dark. The Alcazar Cabaret Show should be top of your bucket list. Expect glitz, glam, and a slightly screwball evening with incredible costumes and perfectly choreographed showmanship in the purpose-built theatre. It's impressive, bold, and beautiful.
The Thepprasit Night Market has seemingly endless stalls selling everything from chintzy souvenirs, counterfeit designer goods, art, handmade goods and lots of tempting street food. Enjoy a carb-fuelled evening with piping hot noodles, crispy spring rolls and overly sweet banana pancakes. Sit back, enjoy one of the many pop-up bars, and partake in some serious people-watching before heading to the famed rock Hot Tuna Bar for some no-nonsense, gritty live music. If you want to continue along the walking street market, pop into the cool [literally] ice bar at V20 Cocktail Lounge for an icy shot or two.
Head further south to Thailand's largest island, Phuket. The tropical island is surrounded by the shallow shores of the Andaman Sea and some of the world's finest beaches. Phuket has an enviable reputation for having some of the country's best beach clubs with internationally recognized DJs who know how to mix a tune or two. Check out Carpe Diem, Paradise, Catch and the island favorite, Café del Mar. Blend great music with mixologist-stirred cocktails, deliciously fresh tapas and an impressive sunset; you'll have a perfect evening.
Honeymooners or the romantically inclined will appreciate Baba Nest Rooftop Bar at the exclusive Sri Panwa resort. Lounge on oversized cushions and impressive views across the Andaman Sea, feast on Mexican tapas, and get a little tipsy on their impressive array of cocktails!
Want to know the best places in Thailand for Honeymoon??

Where to find the best budget-friendly honeymoon destinations?
Patong is the well-known party area in Phuket, a short stretch of bars and clubs that come alive after dark. The neon-lit strip of evening entertainment is not for the faint-hearted; you can choose from super cheap down-at-heel bars to extravagant seafood restaurants, go-go bars, and discotheques. You'll find samba dancers, fire breathers, magicians, ladyboys, and rappers lining the streets. Bangla Road is eclectic, noisy, and fun, and it's free of cars in the evening.
Make time to go to Phuket Old Town. Arrive before sunset and explore the vibrant streets and narrow cobbled lanes and pose with beautifully graffiti-painted cartoon hawkers, birds, crazed rabbits, and even a pineapple. Pop into Chun Café and Restaurant for dinner; it takes over a traditional brick shophouse decorated with vintage clocks, televisions, radios, an old cine projector and lots of other retro collectibles. The extensive menu includes a Thailand favorite, Khanom jeen Kang poo, a thick yellow curry made with coconut and flakes of fresh crab. Sunday nights are the best because of the busy walking market that runs along the main road lined with old and very colorful Cino-Portuguese shophouses.
Koh Samui is a pretty little island accessed by the quaintest airport in the region. It has a sleepier appeal than its larger sibling Phuket and offers up a plethora of great restaurants. You can pick up a bag of delicious traditional noodles from your favorite mom-and-pop restaurant for around 60 baht or dine in one of the luxury hotels for over 5,000 baht! Just like Phuket, the island has a growing number of beach clubs, including the post-pandemic Elephant Beach Club, Tembo, Chi and Seen. The island's south and west coast boast incredible sunsets as the sky turns from blue to pink over the five islands and mainland Thailand. It's worth heading to the newly opened Nanus or Nikki Beach in Lipa Noi, I-Talay, or the Air Bar at the Intercontinental Hotel in Taling Ngam for truly the most spectacular natural performance.
There is, of course, a cabaret show. Divas offer three shows a night with the headlining Whitney-Houston-aspiring lead performer Cambel; you can't help but smile at their impressive turns. Phensiri Thai restaurant is the perfect choice for a pre-cabaret dinner; their service is excellent, and they serve the best margaritas on the island. Sports fans will enjoy live Muay Thai boxing in one of the many stadiums peppered around the ring road. You'll soon notice the trucks that crawl around the island at a snail's pace announcing forthcoming matches through a very loud speaker. It's a must-do as young fighters practice the art of eight limbs for a few thousand baht.
Every month, revelers pop over to Koh Phangan for the legendary full moon party. It's easily accessible with various ferries and speedboats that connect the two islands.