Spiritual Tourism in Thailand
Thailand is considered to be a country with a vast majority following the Buddhist religion. The Department of Religious Affairs found that 92.5 % of the population is Buddhist, followed by 5.4 % Muslims and 1.2 % Christians. This fact attracts travelers worldwide to visit Thailand, as Thailand is the major Buddhist country in Southeast Asia.
Spiritual tourism has been one of the most significant contributors to Thailand's GDP growth. Spiritual tourism is also a part of the service sector that helps Thailand increase employment opportunities and boost the nation's GDP. In the last five years, the Tourism Authority of Thailand has been promoting a new way of traveling, represented in one of the tourism sub-sectors called spiritual tourism. 
Spiritual tourism is a mixture of spirituality and tourism. Spiritual tourism is one of the major tourism categories, which also include religious tourism, faith tourism, and sacred tourism as sub-sectors. The purposes of spiritual tourism are to find the meaning of life and to uplift the body, mind, and soul. It offers education, entertainment, and enlightenment to visitors. Spiritual tourism attracts travelers globally to visit Thailand as they pursue mindfulness, yoga, meditation retreats, and other spiritual pursuits. 
Spiritual tourism also contributes to the local communities in Thailand as it creates more jobs for local people. It allows visitors to get to know the traditional culture and ceremonies regarding spiritual practices. The local communities feel empowered and take pride in their culture and customs. They become more engaged in their history, environment, and traditions. 
For instance, on February 14, 2023, Thailand's Member of the House of Representatives and the Center for Knowledge and Coordination of Cognitive Health coordinated with Sook Enterprise to create a new activity on spiritual tourism. They changed the travel measurement from the external dimension to get back to studying our minds. Recently, they have had a newly implemented spiritual activity called 'Yayyon Montra Matukham'. 
The Center for Knowledge and Coordination in Cognitive Health has extended the results to more concrete activities through the creation of trips. The motive of this newly implemented activity is to allow participants to experience and learn through their own experiences. It is also a response to the opening of cities and the more relaxed lifestyle after the COVID era. 
The 'Yayyon Montra Matukham' activity theme is to take participants on a 200-year journey of urban growth during the Rattanakosin period and beyond to see how it reflects the city we live in today. The specialty of this journey is a new type of tourism called spiritual tourism. The 'Yayyon Montra Matukham' trip will leave visitors to reflect and journey back to their minds instead of focusing on just traveling. It offers visiting trips to three important kingdoms of Siam, such as Bangkok, Thonburi, and Ayuthaya.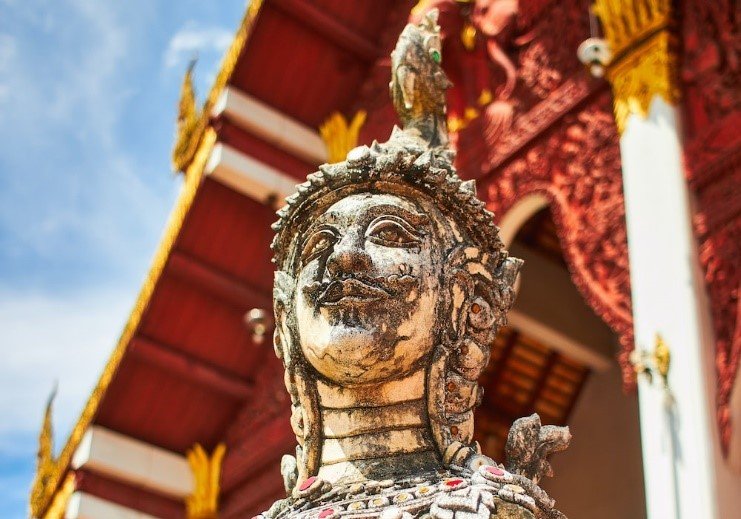 However, it is not just an organized trip for entertainment but also a guiding tool for visitors to step into art, architecture, love, and the creator's heart and mind, which fundamentally impacts the traveler's deepest spiritual connection. This activity tour will eventually allow visitors to find something fresh and powerful hidden within their souls.
Embarking on a Spiritual Journey Through Thailand
In the eyes of the Westerner, many travelers visit Thailand to find peace and participate in meditation retreats to fulfill their dreams, find purpose in life, have freedom, and live a happier life. There are many meditation retreats all around the country, such as Chiangmai, Phuket, and Koh Phangan offering a week- or month-long program to participate in meditation retreat activities such as yoga, mindfulness, healing journeys, etc. 
The spiritual practices and activities in Thailand have become increasingly popular with locals and travelers globally each year. Spiritual tourism in Thailand offers a positive impact by not only delivering experiences while visiting the country but also focusing on self-improvement, self-development, and better life quality in terms of mind, body, and soul.
For instance, there are many meditation retreat schools and camps around Thailand offering a designed and flexible program suitable for each traveler based on their time and budget. Most of the mediation retreat programs offer similar activities with different approaches, such as breathing work, healing practice, personal journey growth, etc. The retreat schools and camp allow all levels, from beginner to expert, to join the program by providing highly experienced trainers.
Spiritual gurus or masters have also been a significant reason for some travelers to visit Thailand to meet highly experienced spiritual masters or gurus. As we all know, Thailand is a Buddhist country, and many well-known monks or spiritual masters offer Buddhist guidance and teachings to enlighten those travelers who seek answers in life. With Buddhism's teachings, it educates on living life sustainably, mindfulness practices, and guidance to live a fulfilling life.
Therefore, it attracts travelers globally and local people to attain the programs, trips, or events that lead to a self-reflection journey and improvement in mind, body, and soul. 
One of the most visited periods and high seasons in Thailand is the Songkran period, or Songkran festival. Songkran is the Thai New Year's holiday; the celebration is held yearly, starting on April 13th each year. It is well known for the Thai New Year and holidays and provides fun activities like splashing water all around the country for days or a week. Nevertheless, Songkran is not only for entertainment but also an important spiritual ceremony for local Thai people.
During the period of early Rattanakosin, Ayuthaya period, and before, local Thai people would take their families to the temple to attend the Songkran ceremony by paying respect to the loved ones that died and giving merits to monks, etc. Most of the events during that time involved the temple area. Many activities are happening inside the temple, such as sand pile competitions, building sand pagodas, outdoor theater, etc. 
Another important traditional Songkran activity is bathing the Buddha statue with holy water. Local people will carry the Buddha statues around the area to praise the Lord Buddha in the form of Buddha statues so that the Buddhists can join to pour water for prosperity and happiness. Therefore, it suggests that Songkran is also one of the famous ritual or spiritual activities that provides the values of local Thai people on a mind and soul level. It also attracts people from all around the world to enjoy this Thai holiday and to get to know more about Songkran and its ceremonies, which brings a lot of benefits to Thailand's tourism GDP growth.
Spiritual tourism in Thailand has recently received more interest from local Thais and travelers across the globe. As a result, the Thailand government has been more involved in implementing spiritual tourism as a new way of promoting travel by providing spiritual trips, hoping that the visitors will journey back within themselves, benefiting both sides—travelers and organizations. 
Moreover, Thailand is a holiday destination that offers beautiful beaches, nature, etc. With its natural and peaceful landscape, it attracts many foreign investments in resorts, hotels, and restaurants in major destinations in Thailand, which leads to the creation of a mediation retreat center or school. Many travelers travel to Thailand to attend mediation retreat programs to improve their bodies, minds, and souls. 
With the increasing number of visitors to Thailand for spiritual purposes, it combines spirituality and tourism, creating a sector that benefits Thailand's GDP growth, local communities, and the tourism industry of Thailand. It gives enlightenment and entertainment to visitors. It also provides education so that visitors can embrace new learnings and benefit from spiritual tourism.